U.S. Food and Drug Administration Approves Gilead's Biktarvy® (Bictegravir, Emtricitabine, Tenofovir Alafenamide) for Treatment of HIV-1 Infection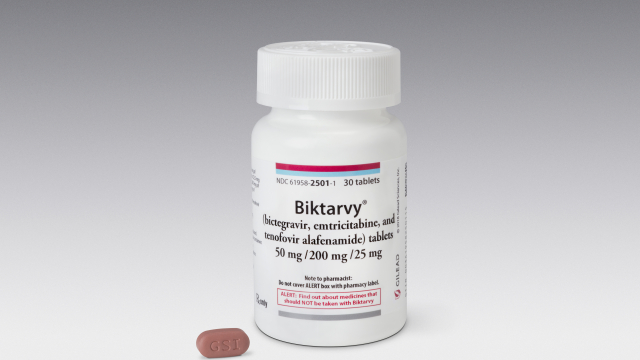 Biktarvy Bottle and Tablet
In Clinical Trials, Biktarvy Demonstrated High Efficacy, Few Interactions With Other Drugs and a High Barrier to Resistance Through 48 Weeks
Gilead Sciences, Inc. (NASDAQ: GILD) today announced that the U.S. Food and Drug Administration (FDA) has approved Biktarvy® (bictegravir 50mg/emtricitabine 200mg/tenofovir alafenamide 25mg, BIC/FTC/TAF), a once-daily single tablet regimen (STR) for the treatment of HIV-1 infection. Biktarvy combines the novel, unboosted integrase strand transfer inhibitor (INSTI) bictegravir, with the demonstrated safety and efficacy profile of the Descovy® (FTC/TAF) dual nucleoside reverse transcriptase inhibitor (NRTI) backbone, and is the smallest INSTI-based triple-therapy STR available.
See below for Important Safety Information within the press release. The full Prescribing Information, including BOXED WARNING, is available for download within the DOCUMENTS tab.
CONTACTS:
- Sung Lee, Investors - (650) 524-7792
- Ryan McKeel, Media - (650) 377-3548
plus...